Our History
Good Shepherd Lutheran Church began as a mission congregation. The Board of Missions (Illinois District) of the American Lutheran Church extended a call to Rev. Carl A. Kalkwarf of Sterling, Illinois to begin the Good Shepherd congregation. Arriving in September 1962, Pastor Kalkwarf began his work. The first service was held at Bottenfield Elementary School on October 28th with 180 people in attendance. The first Sunday School class was on November 4th and had 32 children enrolled. The new congregation was formally organized on January 20th, 1963 with 124 baptized and 70 confirmed members. On January 27th, Pastor Kalkwarf was formally installed as the first pastor for Good Shepherd.
On Sunday, February 3rd, 1963 the church, education unit, parsonage and all appointments were formally dedicated. Costs for buildings and property were: church and education unit – $65,617; four-acre site – $36,238; parsonage – $26,000. The parsonage was refinanced commercially on December 9th, 1963, and the entire building program refinanced seven months later on July 5th, 1964. At the same meeting, the congregation voted to build a 60' x 35' addition to the education unit at a cost of approximately $28,000. Groundbreaking for the second unit was held on August 2nd, 1964. Formal dedication for the new education unit came on October 3rd, 1965.
In September of 1968 the Kalkwarf family left Champaign for a move to Bartonville, Illinois, leaving a congregation of 414 baptized and 215 confirmed members. Rev. Raymond M. Meyer of Omaha, Nebraska accepted the call to serve Good Shepherd, arriving in January of 1969. That same year the Bethel Bible Series was begun with a core group of teachers being trained. In October 1970 the congregational phase of Bethel began. August of 1971 found the Meyers moving to Waterloo, Iowa. The congregation had grown to 436 baptized and 280 confirmed members.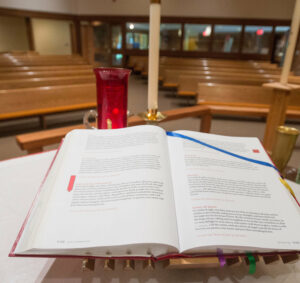 The third pastor to serve Good Shepherd was Rev. David A. Nelson. The Nelsons moved to Champaign from Earlville, Illinois in October of 1971. As the congregation celebrated a 10th Anniversary in 1973, the impetus for a building program began. After a Vision Committee did a feasibility study, the congregation gave wholehearted approval to build a new church in early 1974. Groundbreaking service was held on March 16th, 1975.
A bonding program in April of 1975 resulted in $275,000 worth of bonds being sold in 3½ days' time. In the process a debt of $65,000 was retired, and construction monies were immediately available. By December 14, 1975 the congregation had grown to 612 baptized and 423 confirmed members. The next two years found some minor remodeling projects completed in the original buildings. The old church became an all-purpose area; the old offices became a nursery; and new offices and choir/conference room were completed. A major parking project was authorized by the congregation in May of 1978. Sale of the parsonage generated funds for the parking lots. After providing the pastor with a housing allowance, the parking lots were completed in mid-1979.
A major roofing-insulation project became necessary in 1982. The finished new roof resulted in a new look for our facility. Additional insulation made the church more energy efficient and economical. In 1983 the congregation celebrated its 20th anniversary, grateful to God for blessings past and hopeful for the future as our shared ministry moved into its third decade. Pastor David A. Nelson accepted a call from the American Lutheran Church national office to help with the fundraising for the proposed merger that became the Evangelical Lutheran Church of America (ELCA). A farewell reception was held for him and his family on May 19th, 1985. The congregation had grown to 860 baptized and 650 confirmed members.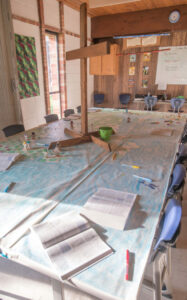 Rev. Edward D. Schneider was called to serve as the fourth pastor of Good Shepherd following service as an Assistant to the Bishop of the American Lutheran Church, Minneapolis, Minn. His installation was on September 1st, 1985. On May 11, 1986, Rev. Beverly D. Lange, who was a baptized and confirmed member of Good Shepherd and daughter of Dave and Marjorie Lange, was ordained in our sanctuary with Pastor Nelson and Pastor Schneider presiding. The Rev. Dr. Ralph Smith gave the message.
In 1990, a long-range planning committee was appointed to consider future needs of the congregation. In 1992-93, a remodeling committee supervised the remodeling and expansion of our facilities. Since Christian education has always been an important aspect at Good Shepherd, the need for additional classrooms became apparent at this time. The following additions were made: seven classrooms; resource room; janitorial room; new choir room, which is also used for small meetings on a regular basis; and an enhanced office suite. The west canopy was eliminated and the west entrance expanded. On Palm Sunday, 1993, the congregation celebrated its 30thanniversary with the dedication of its new and remodeled facilities.
Pastor Edward Schneider retired on July 29th, 2001 and a reception was held to honor him and his wife, Nancy. At this time there were 720 baptized and 574 confirmed members. He was designated Pastor Emeritus of Good Shepherd Lutheran Church. As consideration was given to calling our fifth pastor, there were two interim pastors who served Good Shepherd: Rev. William Harum and Rev. Jack Lawrence.
Rev. Donna Hacker Smith began her pastoral duties at Good Shepherd on February 17th, 2002, following service at St. James Lutheran Church, Freeport, Ill. She was installed by Central/Southern Illinois Bishop Warren Freiheit on Sunday, May 3rd at an afternoon service with a reception that followed. In 2003, Good Shepherd celebrated its 40th anniversary with a luncheon. Honored guests were Pastor Carl and Faythe Kalkwarf.
Se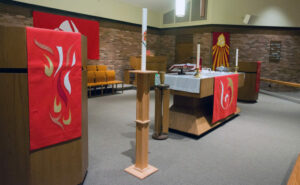 Several enhancements to worship were put in place during this period: a processional cross and Paschal candle were added. The chancel area was remodeled to accommodate a grand piano donated to the congregation. A new altar rail was created before the installation of new carpeting. Additional worship service options were added including a Christmas Eve late afternoon service, summer evening weekday worship, and an afternoon pet blessing in the fall. Pastor Donna was given an appreciation reception on January 30th, 2011, after formally requesting a Leave from Call from the Central/Southern Synod of the ELCA. At this time there were 723 baptized and 588 confirmed members. Rev. Paul Balaban, an interim pastor, was placed with our congregation for a year.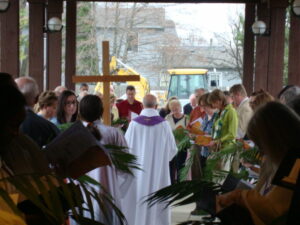 Rev. Thomas Hillertz accepted a call to Good Shepherd after serving American Lutheran Church, Bourbonnais, Ill. Pastor Tom, as he likes to be called, began his service with our congregation on February 13, 2012. His formal installation was held at a 9 a.m. service on April 15, 2012, with newly installed Bishop S. John Roth preaching and presiding. Good Shepherd's pastors and council leaders have been faithful by uplifting lay leadership in staff roles as financial secretaries, parish secretaries, treasurers, custodians, youth workers, parish nurses, and parish workers. Among those roles filled by many faithful people, two were called and commissioned for full-time service. Carol Manley became parish worker in April of 1988, after ten years as parish secretary. Her retirement was honored on April 30, 2006, during worship and at a reception.
Jason Fisher became Youth and Family Minister on November 22nd, 2009 after serving a Rockford, Illinois congregation. Upon completing the ELCA requirements for Associate in Ministry, he was installed during a worship service on January 31st, 2010. Good Shepherd's "Youth & Family Guy" – as he likes to be called – continues to serve as the Holy Spirit leads Good Shepherd into the future.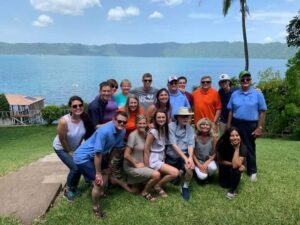 Good Shepherd celebrated its "50 Years of Blessings through Christ" by uplifting each decade of ministry with five worship settings and events throughout the year of 2013. Keeping in mind that Good Shepherd began as a mission congregation and was started with funds and talents from others, the 50th Anniversary Committee recommended support of the Cristo Rey Lutheran Church in El Salvador. Members and friends responded by giving almost $17,000 as seed money to help rebuild the earthquake-stricken site in El Salvador. An on-site eleven-person work team, formed by Jim Hack with Don Block, has led the way on behalf of Good Shepherd with this effort. God has continued to strengthen and grow this relationship between Good Shepherd and our brothers and sisters in El Salvador.
In early 2019, Pastor Tom retired and Good Shepherd and Good Shepherd entered a time of transition, lengthened by the COVID-19 pandemic.
In September 2020, Good Shepherd called Pastor Lynette Chapman. She began her work in November of 2020, but wasn't formally installed until July of 2021 (again, due to the pandemic). Pastor Lynette Chapman came to us from the Southeastern Pennsylvania Synod where she served Trinity Lutheran Church in Quakertown. Pastor Lynette brings creativity to worship and preaching, warmth and openness to new ideas and new people, and a dedication to leading us to become the community God is calling us to be in this time and this place.
God continues to write our story into the work of Jesus Christ. At Good Shepherd Lutheran Church all are welcome to become part of the healing and forgiveness that God brings into the world. All are invited to join Jesus Christ in this community of broken believers gathered around God's word and the Eucharist. Come and learn how the teachings of Jesus Christ expressed in his life, death, and resurrection show us the heart of God. It is this Triune God that is the source of all life, healing, and forgiveness. Thanks be to God.